All SSJ100 in "Light" Specification to be Replaced by "Full" in the First Half of 2014
Source: http://airsoc.com
Moscow – January 30, 2014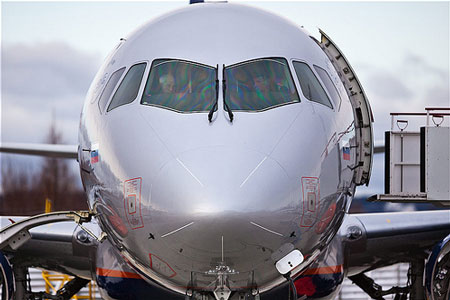 In the first half of this year Sukhoi Civil Aircraft Company will replace all Sukhoi Superjet 100 aircraft in its "light" specification to "full" in Aeroflot, and will continue to deliver SSJ100 following the contract on 30 aircraft of this type between the companies.
To date, the airline has already obtained six SSJ100 aircraft in "full" specification. In accordance with the contract, Aeroflot gives back to Sukhoi Civil Aircraft Company (SCAC) the aircraft in "light" specification previously operated by the airline. This aircraft is being delivered to other airlines which expressed their interest in acquiring of SSJ100 aircraft took out of Aeroflot service.
On 29 and30 January2014the fifth and sixth Sukhoi Superjet 100 aircraft in "full" specification took off from Zhukovsky Airfield where the SCAC Delivery Center is located to the Sheremetyevo International Airport – the base airport of Aeroflot. The aircraft was given RA-89023 (manufacturer No 95041) and RA-89032 (manufacturer No 95043) tail numbers.
Earlier, on December 31, 2013 Aeroflot received fourth SSJ100 aircraft with tail number RA-89022 (manufacturer No 95039) in its enhanced configuration. The aircraft was put into commercial operations in the beginning of January this year.
At the moment the number of flight hours since the entry into service in Aeroflot, the largest operator of the Sukhoi Superjet 100 aircraft, has totaled more than 27,000 for more than 18,000 commercial flights.
The airline operates flights by the Sukhoi Superjet 100 aircraft on routes to destinations in Russia, Germany, Sweden, Czech Republic, Denmark, Finland, Norway, Croatia, Hungary, Romania, Lithuania, Latvia, Estonia, Ukraine and Belarus. SSJ100 is being delivered to the airline in 87 seat-configuration and can cover a distance of up to 3048 km.
About replacement of SSJ100 "Light" to "Full"
In 2005, JSC "Aeroflot" and JSC "Sukhoi Civil Aircraft" (SCAC) signed a contract for delivery of 30 Sukhoi Superjet 100 aircraft in standard specification – single class arrangement for 98 passenger seats. Later, the airline decided to improve the aircraft specifications including the arrangement, passenger cabin equipment, and avionics.
Some changes requested by Aeroflot required further aircraft modifications. In order to avoid delivery delays, the parties agreed that the first 10 SSJ100 would be delivered to Aeroflot in "light" specification and later replaced by aircraft in "full" contract specification ("full").
Full and light specifications differ in several respects. The full specification aircraft includes an upgraded Flight Management System (FMS) and a weather radar equipped with a wind direction detection function. Further, the full specification features additional video control cameras, separate lighting controls for both economy and business class and an additional working position for a flight attendant at the wall of option galley at the back of the aircraft. Individual gaspers over each passenger seat were also installed, thus improving passenger comfort. The full aircraft is equipped with three lavatories with diaper boards, and each three-seat-block in the cabin has an additional oxygen mask. Instead of three galleys, the aircraft contains four, one of which is equipped with two ovens. There is additional space to fit a flight baby cot.

30 Jan 2014 21:36
---
---
You may use site content under the terms of Creative Commons Attribution-ShareAlike 3.0 License