Aeroflot To Moscow & the Sukhoi Superjet SSJ-95B
Check-in was done online, to be sure the boarding pass saved in ibooks on the iPad. But since we wanted the real paper card, we called at the Sky Priority desk at CPH. A huge line (I guess a total SSJ load of people) was waiting to be served. It's good to have status with Skyteam, and the groundstaff was gladly offering a voucher (valued DKK 100) to use at airport shops/restaurants. No lounge sadly, since that was closed at this time of the day.
My friend was joining me as a guest, and the lady was kind enough to give another voucher, so we had 200 Kroner to spend… in the 'best value for money shop' 7eleven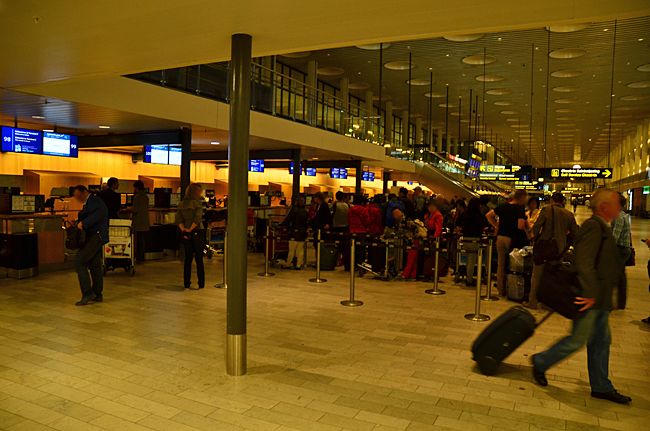 Check-In desk for Aeroflot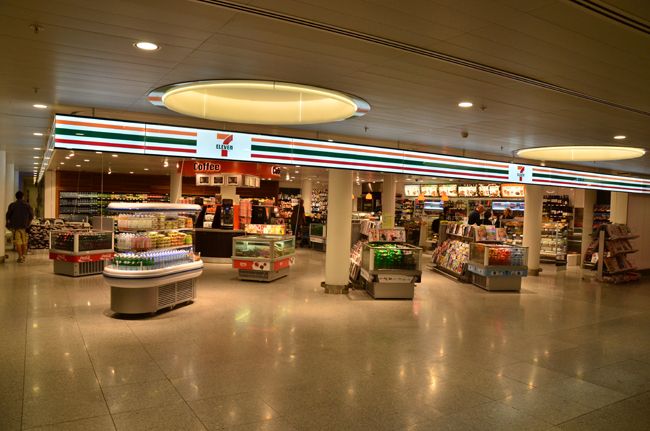 The 7eleven where we got 2 beer, 2 wine and something to bite on
No need to mention that security was a breeze with simply nobody else around, and also the terminal building was almost 'dead' of people. No wonder really, this Aeroflot service was the last departure of the day.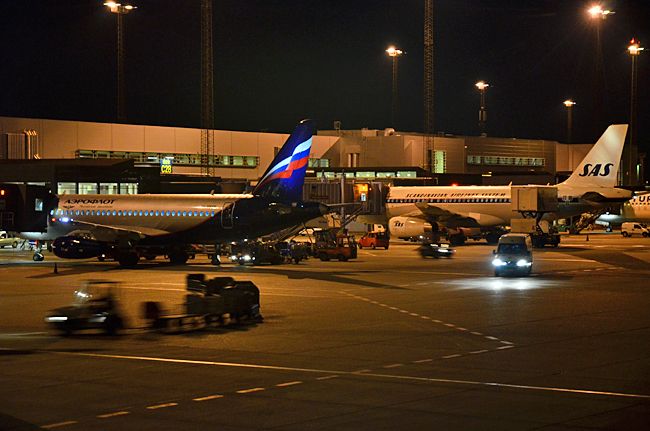 The SSJ is here. First glimpse of the aircraft. Getting excited now!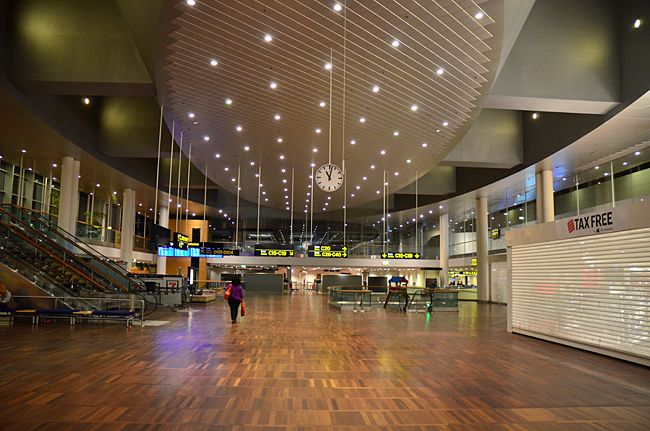 Departure gate was C26, and we quickly reached it after we got our passports checked by an officer.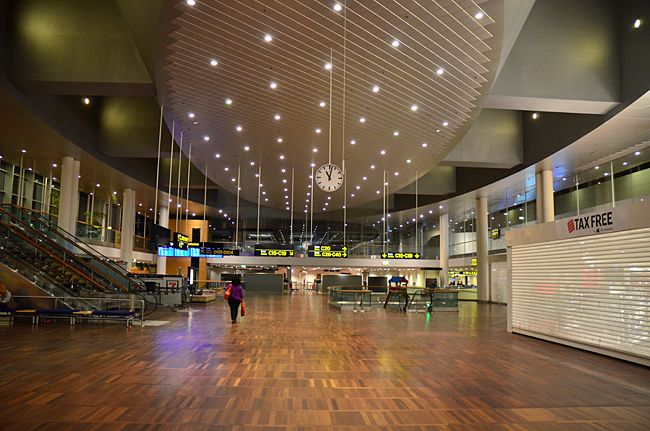 No problems to reach you gate quickly at night… it's empty here!!
Boarding was on time, but no Sky Priority call here, which can be blamed to the groundstaff. Bad effort! It's one of the basics of the Skyteam alliance benefits to their status holders.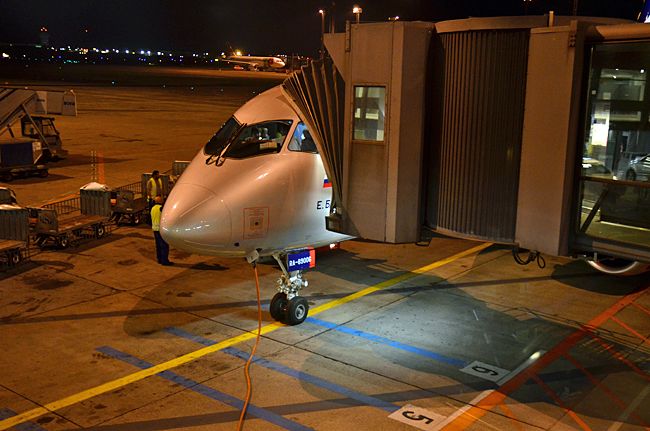 Difficult to check at CPH, but the registration was on the nosewheel door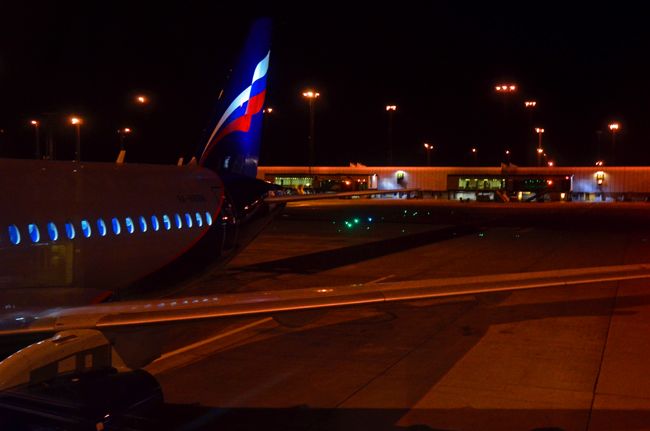 A closer look on this aircraft prior boarding

Flight: SU2497 – 19 AUG 2013
Route: CPH-SVO
STD 23:40 ATD 23:36
STA 04:05 ATA 03:57
A/C: Sukhoi Superjet SSJ-95B # RA-89006
S/N: 06A (Economy class/Y)
Onboard, a friendly welcome by flight supervisor Maria. Another female attendant, Elena, was down the aisle. A third one in the back but I don't know her name. A good first impression and I just love the Aeroflot uniform and hat! Very stylish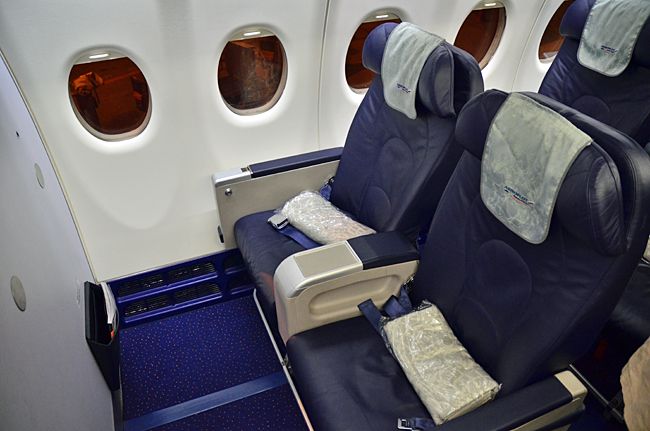 Business Class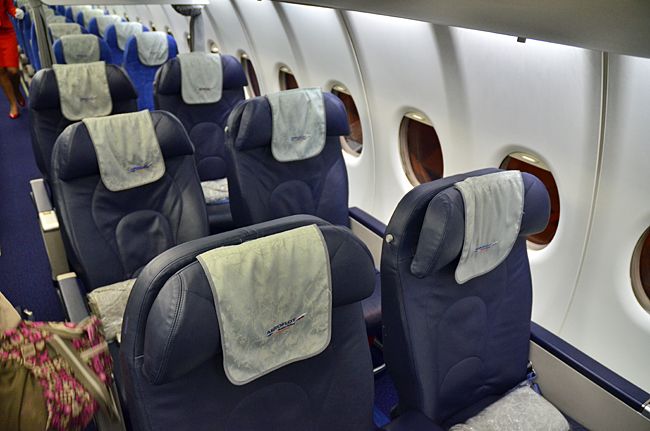 Cabin view; see the Economy Class seat in the background
The business class section is set up in a 2-2 layout with blue leather seats, followed by economy class in a 2-3 layout and blue cloth covered seats. Tip, go for row 6 to enjoy some legroom, well, Aeroflot was kind enough to provide me with 06A, best seat in the house?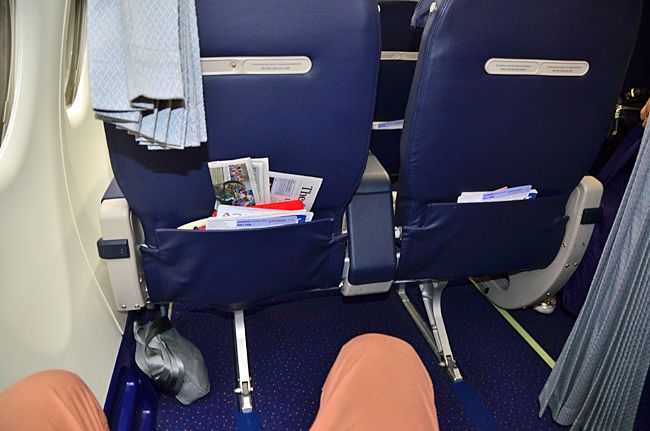 Can't really complain about this legroom!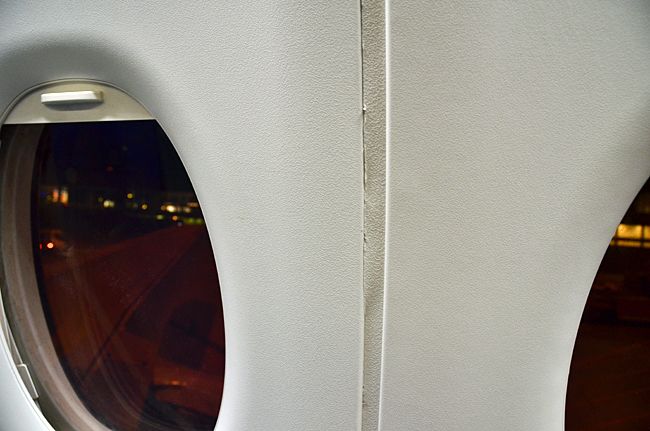 My eye for detail says that they could've done the inside with better quality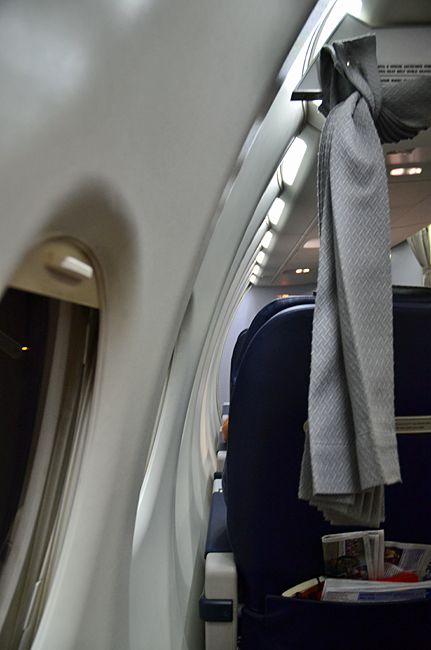 This looks all fine to me though…
My neighbour was an American citizen, we talked a bit about aviation since he had some old work connections at Lockheed Martin. And he was not aware that he was flying a bit of rare aircraft. So, I had my excuse to take some more pictures during the flight and he was fine with it! (You never know these days)
We pushed ahead of schedule, so that was a good thing. Engine start was a bit weird, some strange sounds, rattling or whatever you would call it. Eventually the 2 Powerjet SaM-146 engines got to life and all was fine. Captain Alex gave a quick welcome on his Superjet and estimated a 2h05m flighttime to Moscow.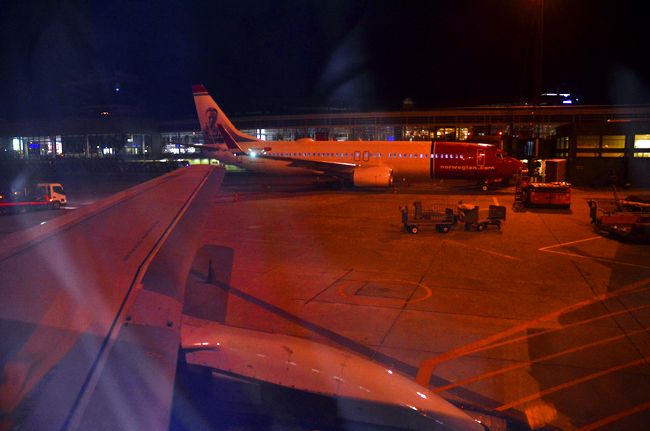 Ready for pushback
A safety briefing was given manually by the crew. All done very professional! Overhead (drop down) screens are not available on this frame, but I think it is an option on the SSJ (Mexican operator Interjet seem to have it?).
Meanwhile we taxi to runway 04R for departure and not much later following a roll of 23 seconds (the American guy was checking on his watch) we took the dark skies.
The aircraft climbed fine and smooth.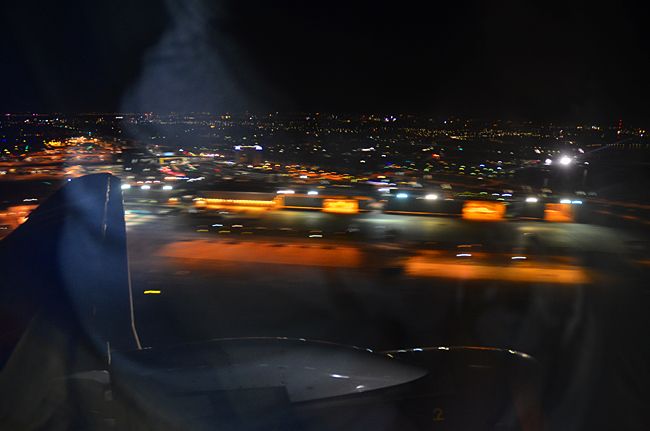 Up in the air, leaving CPH
Once cruise altitude was reached, the engine spooled to calmer settings. One thing which I noticed, and I was not alone, is the continuing fluctuating sounds/vibration from the engines during cruise. Nothing happened really, but the sound is 'not normal' to my ears and it gave me a feeling that I was flying on something that was 'less reliable' (?). Don't take this as a bad opinion, but I noticed and question myself if all was fine.
Food and drinks are provided by Aeroflot, and first a drink was offered. With no Coke Zero on the menu, a settle for Coke Light and the crew gave me the 330ml can , plus an extra cup with ice cubes and a wet towel in Sochi 2014 seal.
Drink service
Not much later, a meal was served, for me it was a cold noodle salad, fruit and bread. The taste was fresh and I eat all except for that disgusting prepacked bread.
The crew also give me hot tea in a Coca Cola cup
Meal service
Well, apart from some looks in the inflight magazine, and a quick walk to the back of the plane, I was quite bored on this uneventful flight. The crew was ok with me taking some pictures and they gave a very friendly impression on me
Inflight Magazine and the safety card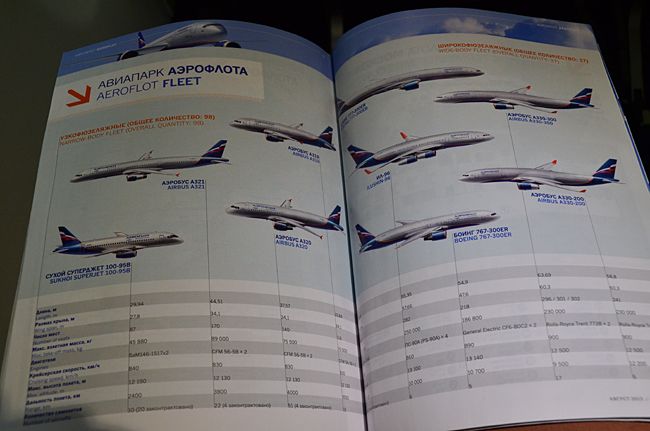 … for our PlaneHunter, can he find a mistake?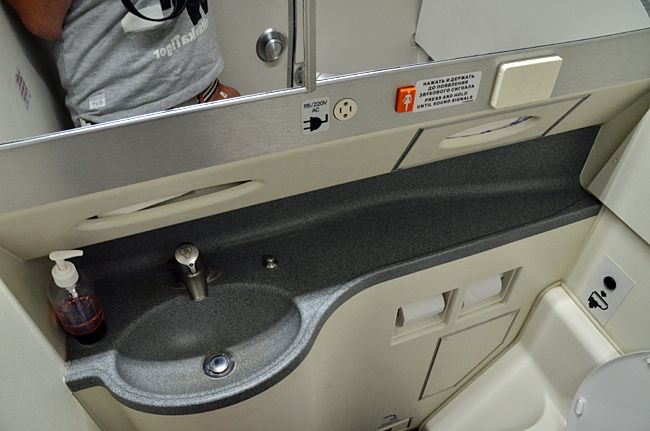 Compulsory lavatory visit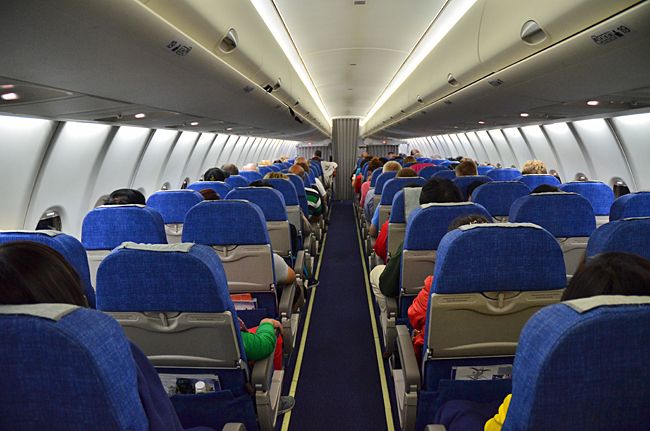 The cabin, view looking forward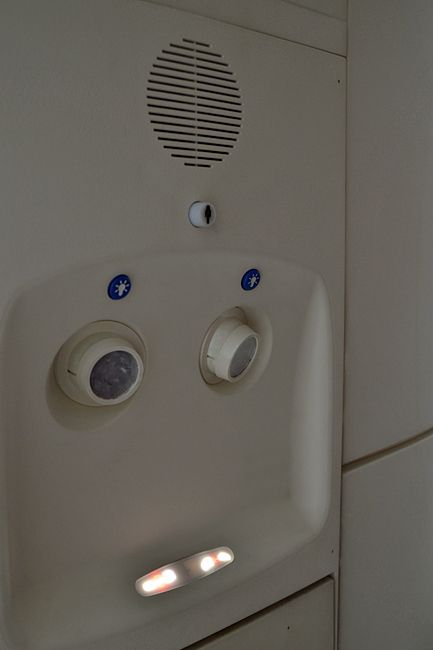 Above my head I see this panel…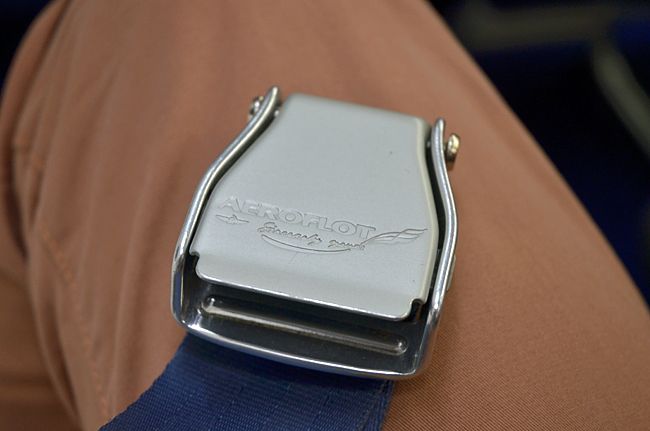 Some more details, a nice touch!
All good things come to an end of course and soon we find ourselves descending into Sheremetyevo Airport of Moscow. Still in the middle of the night, the orange/yellow lights from the city are visible around. Landing is on runway 25R and done smoothly.
Landed!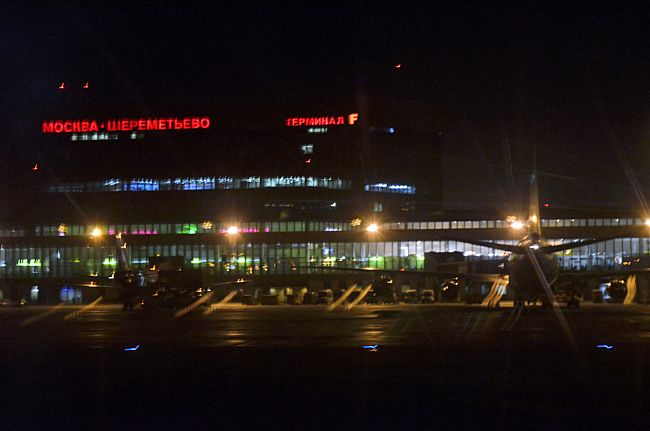 Yes, this is Sheremetyevo
With no other visible traffic around, we reached the parking spot at international terminal 2D a few minutes later and parked at gate D18, ahead of schedule.
I said goodbye to the crew and found myself a bit in Russia for the first time ever… A few more pictures of the beautiful Sukhoi Superjet were taken and groundstaff was all ok with this.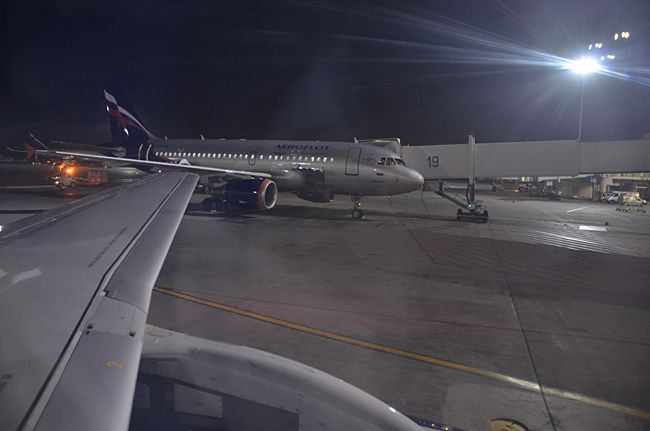 Parking at the gate next to a company Airbus
Disembarking via a fingergate…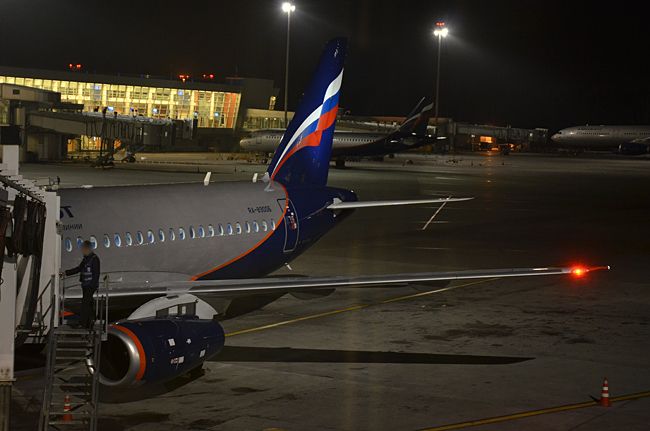 A last view back on RA-89006… she was fine to me!
In the end, I can say that I generally have a good and positive impression on Aeroflot so far it comes to this particular flight, and I was happy to have flown on this aircraft. It makes it all a bit more special, isn't it?!
To be continued…: Transitting to Terminal C and the Ilyushin-96 in action. Stay tuned!
Thanks for reading!
Eric
18 Jan 2014 17:09
---
---
You may use site content under the terms of Creative Commons Attribution-ShareAlike 3.0 License